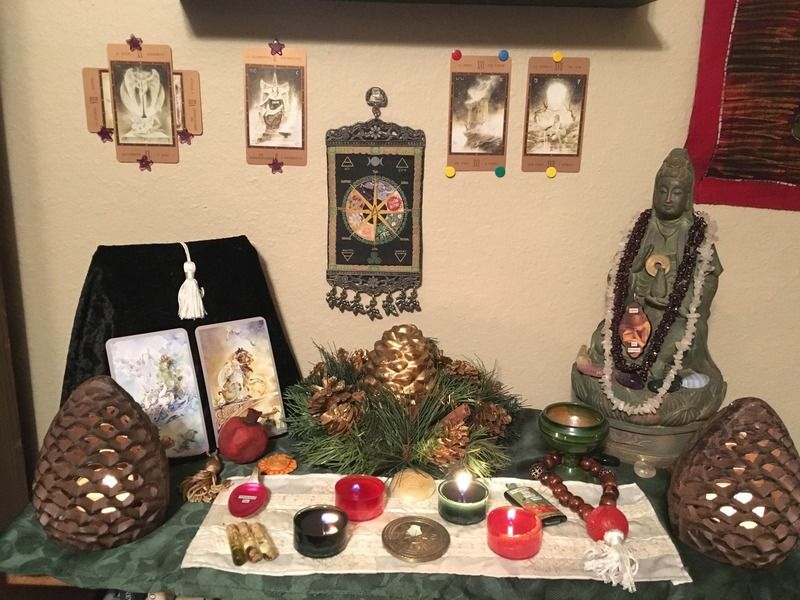 Activity #1, Build a Yule Altar
Journal Prompts
I. What winter holidays did your family celebrate when you were growing up?
My mother and maternal side of my family celebrated Christmas in the Episcopalian sense of the holiday, while my father and his religious community, including my best friend and her parents, and most of all of his friends, celebrated Yule. I know, now, that my father's family celebrated a more Christian Christmas, but I hadn't had contact with that side of my family much at the time.
II. Are there winter holiday traditions from your family that you have continued or would like to continue? What are they?
There are quite a number of holidays rituals and traditions, both religious and not I'd like to continue on through my life and pass down to my children and grandchildren.

Watching the Thanksgiving Parade, while Thanksgiving dinner cooks and the family is decorating the tree together. That Christmas music starts the day after Thanksgiving. That ornaments hold sentiment and memory, strong as steel and timeless. Using the china place settings. Making my mother's white bean soup and my Aunt Marg's cranberries (including leaving it outside in the freezing cold 1-2 days).

Going out to experience the city in the season. Donating to the less fortune, both money and time. Taking in the sights, marveling at snow and lights. Meeting up with all of my family on different days and times so I never have to pick and can simply love everyone who is in my life and family. Traveling somewhere beautiful and wintery. Traveling to where family is at that time.
III. Are there winter holiday traditions from your family that you have chosen not to continue, or would like to discontinue? What are they?
I don't specifically think so? We haven't had a lot of negative traditions or habits related to holidays, especially since all the siblings have grown up and can make healthy, smart decisions for themselves.

I'm having a long quiet moment of some soft pain with this as I'm realizing I can't really remember the last time I had a Christmas with my recently-departed father. Not like simply when he gave me a gift whenever I got back from my Christmas excursion with my mom and her side of the family. But an actual Christmas with him. That might have been back to my teens even. Before Kimi passed away, and before I refused my custody arrangement at the age I could.

There's sometime sad to that. That I can't really remember my last Christmas with him. Or much of anything in my memories of Christmas's with him even before that (especially in comparison to how vibrant, detailed and many there are with the other sides of my family, and in more recent years with the siblings, mom's family, friends, in other countries, everything).
IIIV. How do you want to feel during the winter holiday season? What can you do to foster those feelings?
I love this season. Love, love, love. I love the weather. I love the people. I love how things get cheerier and kinder. People slow down even as they speed up. I always write Christmas cards in massive dozens every year to everyone near and far, family and friend, I love. This year, I even wrote a good two dozen "Thanks"giving Cards, just to relate to people how 'thankful' I was to have them in my life or for something important to me that happened in the last year.

I love advent calendars in the morning, and planning surprises for friends for months and weeks, counting down. I love laughing at people's impatient and then even more when they wait for me to be and I'm not. So patiently ready for those special specific days, entirely okay with things sitting wrapped and unopened, for me, in my house for weeks. Heart already giddy at the gesture even without the knowledge of contents.

I love traveling through this season, going to all sorts of festivals. I love running holidays socials and gift swaps or white elephants for the groups I run/co-run. In general, about this time, my December starts slowing as everyone tries to put everything into the first two weeks, myself included, so that the two weeks around Christmas aren't touched when people are frequently gone.

Which makes this the perfect time for me to start doing this course, which suits me just fine. Getting to take a week and some before the Holiday to get myself immersed in to it.
[This entry was originally posted at http://wanderlustlover.dreamwidth.org/2305069.html. Comment on either at your leisure.]