Fanmail's December Toon Time Box
Betamax Shirt
Assorted Buttons
PuppyCat Toy
Exclusive Lumberjanes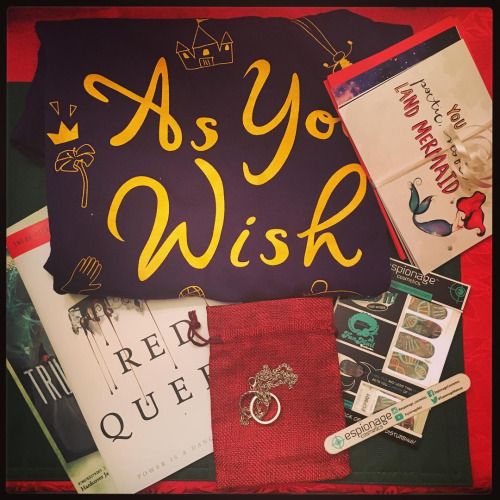 Fanmail's January Valentines & Galentines Box

Princess Bride Shirt
Red Queen Promo Chapters
Parks & Rec Valentines
True Map Foldout
Outlander Rings
Nail Wraps



Let's start with the one (of two) I'm say See Ya, So Long, Bye-Bye to this year. I loved a lot of the beginning of Fanmailand I was on the ground level for helping them get off into flight a year ago. I bought their magical extra box at SDCC and got free boxes even. I've never really sunk into this one though. I loved the early run boxes a lot better and the last 3rd or 4th have really all left me lacking.

I don't much want anything from either of the above ones, and it showed, because they stayed in boxes until tonight when I did pictures, geek white elephant summer donatables, and trashing of packing/boxes.




Fandom of the Month's January Harry Potter Box

Print-screened bag
Bellatrix Magnet
Dark Mark Earrings
Harry Potter Charm bracelet
Wizard double mirror compact



I'm admitted not a big Slytherian House fan, but I am a massive, massive, massive fan of all things Fandom of the Month Club. I have gotten so much great stuff from them. Honestly, how great is the compact, with the Sirius flyer quote, with a dual mirror you can keep in your purse. I'm so in love. Plus, I'm sure the bracelet will come in handy the next time I have some kind of HP event (and can match it with my Ravenclaw robes and tie).




Lit Kit's "Kickstarter Backers" January Box

Recycled Rainbow Pencils
The Shrug 4: Family
Sharpen by Rich Ives
Post Card Writing Prompt
Monthly Writing Prompt Calendar



I have been dying of excitement to receive this box. I helped Kickstarter it over here, and then getting a Christmas Coming Soon Card of beyond amazing adorable. I am incredibly over the moon with all of these pieces already, and the letter in the box said to keep an eye open for a journal coming in the mail soon to complete Month One's box, too.






Current Subs
- Fandom of the Month, Ipsy, LitKit, TeaBoxExpress



[This entry was originally posted at http://wanderlustlover.dreamwidth.org/2319778.html. Comment on either at your leisure.]